The Process
Like the Disciples at Pentecost, Confirmation is a Sacrament in which we receive a new deeper outpouring of the Holy Spirit into our hearts in an extraordinary way. This process is an opportunity for teens to be "strengthened by power from heaven, made true witnesses of Christ in word and deed, and be bound more closely to the Church" (Apostolic Constitution). As such, our confirmation process is NOT a requirement to be Catholic, an entitlement, or a graduation from religious education.

"Behold, I am doing something new..." Isaiah 43:19
Our Confirmation process is designed to prepare teens for a life of discipleship and for full initiation into the Catholic Church. Preparation includes regular mass attendance, small group meetings, one-on-ones with their core team member, a letter to the bishop, and a full weekend confirmation retreat. Our program focuses on the Sacrament of Confirmation, as well as various elements of what it means to be Catholic.
1. Discipleship semester
The Discipleship Semester is a pre-requisite and is offered during the fall semester. It is designed ideally for high school freshman while they transition into their new school community. Throughout the process, candidates are expected to be attending Mass on Sunday (or vigil Mass) and on Holy Days of Obligation.

Online Registration: Registration is open. A link and instructional video are in the right sidebar.
Encounter Retreat: The Discipleship Seminar starts with a full-weekend retreat that provides teens with the opportunity to reflect on their relationship with God and the different ways God interacts with us in our daily lives. To participate in the discipleship semester, students must be able to attend the entire retreat. Students are not allowed to arrive late or leave early.
Fall 2020 Date: September 11-13, 2020
Small Groups: Registered students will sign-up for a small group based on meeting time. Teens will meet with this group weekly after the retreat to develop the habits of living our faith and growing our personal relationship with God.
2. discernment period
After completion of the Discipleship Semester teens are encouraged to live out the habits they have learned to establish a personal relationship with Christ. Besides continuing to attend Mass on Sunday (or the vigil Mass) and on Holy Days of Obligation, teens are strongly encouraged to participate in the following activities:
- Life Teen and/or Summit
- Campus Ministry (DSHA, MUHS, CMHS)
- Retreats and Summer Camps
- Summer Mission Trip
- Ministry Service
- Community Service
Students will meet once a semester with their core team member during their discernment period. These one-on-ones are held in a public place and are to help teens create and sustain a plan to grow in their relationship with God.
3. Immediate Preparation
Students who have discerned they desire to receive the Sacrament of Confirmation and meet the following criteria are eligible to enter into immediate preparation for the Sacrament:
- 16 years old and entering Junior year of High School
- Completed Discipleship Semester
Application Process: Teens desiring to enter the immediate preparation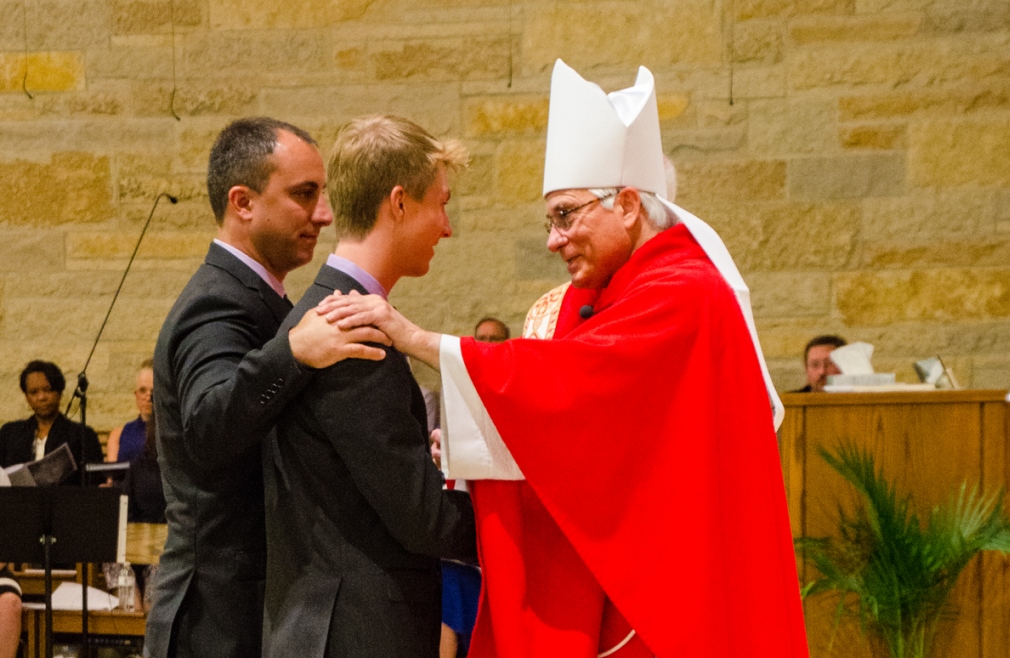 Sign-Ups
---
Paperwork
Sponsor Letter of Reference
---
Resources