Connected in Christ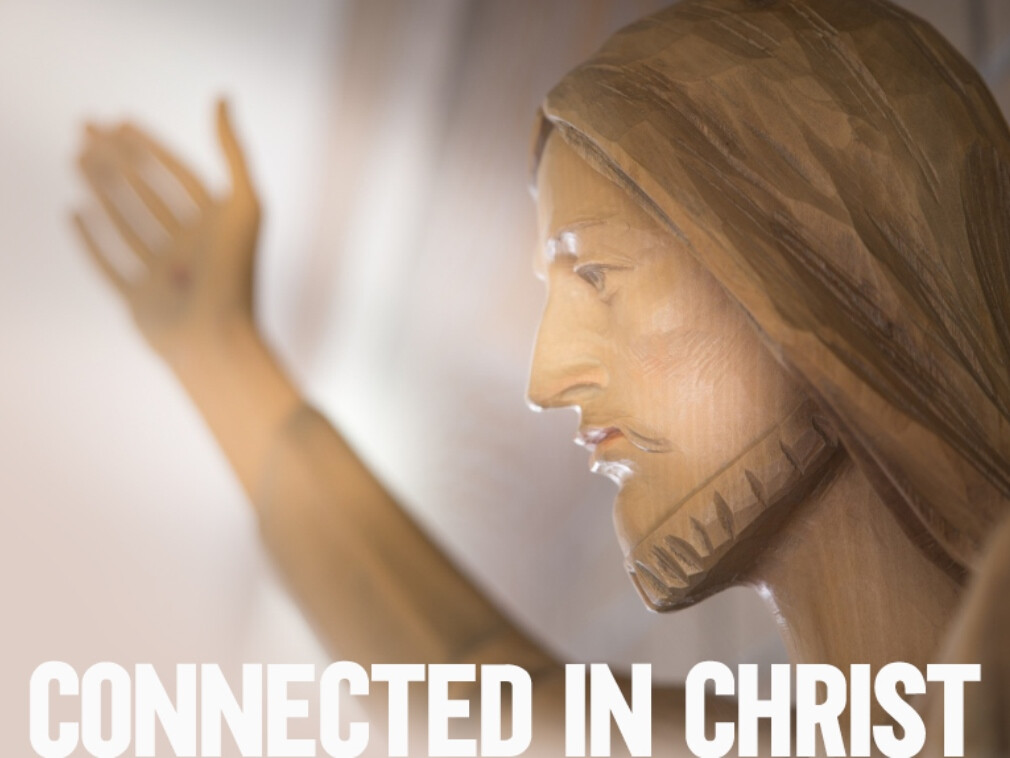 Beloved,
Countdown, one day to go! We are having a quiet day after an action packed Thursday. We had a "dry run" on our process for Mass tomorrow. There are a lot of people who are helping make this work, and it is our first time, so please be patient with us as we adhere to all the directives we have been asked to follow for Mass.
We are aware of several surrounding parishes which will not be open this weekend. I am also aware of reservation systems and tickets that parishes are offering to control attendance at Mass. I have not done these things because it is very hard to predict how many people we will be able to accommodate in the church and in the PAAC. With physical distancing, if there are many families who attend, we will be able to seat more than if there are many individuals. Please if you come to Mass, follow the lead of the hospitality team and please be patient. Not having a reservation system, we may have the "good problem" of having too many people attend Mass. Our advantage is that we will be having a second, backup concurrent Mass in the Parish Arts & Activities Center, the PAAC or "old church," as well which with physical distancing allows for over 100 more.
It is however possible that both places may be filled and you may be told that there can be no more admitted to Mass. If that occurs to you and your family, there are other options: you can come to the next scheduled Mass, we are live streaming the 9:00 AM so you could watch that Mass from your home, or since the obligation to attend Mass is suspended, you could just try next week. If the situation arises at any of our Masses that we have to turn people away, we will be discussing and attempting to remedy the situation for the following weekend.
I also ask you to participate with our plans for seating and dismissal. In addition, we encourage masks, but I am not requiring them for a multitude of reasons, but our hospitality staff and greeters will be wearing them. We priests will be donning masks when we come to offer Communion. I have had some conversations with some parishioners about a couple of things I wish to re-emphasize. It is recommended that you receive Communion in the hand, instead of on the tongue. There is a good discussion about this in this week's Catholic Herald. The bottom line from that discussion is that it is within the purview of the archbishop to override the "right" to receive Communion on the tongue for the safety of the community. The risk of contamination between the giver and the receiver is greater when receiving on the tongue than on the hand.
Secondly, for now, the archbishop says we cannot allow for persons to take Communion home for those who do not attend. I know this sounds cruel and that we are just trying to get people to come to Mass, but the decision was based on maintaining the dignity of Communion and not having unconsumed hosts left around. To support this, we recently had someone return a pyx and it contained a moldy unconsumed host that must have sat in the pyx literally for years. While many of you are well acquainted with the proper use of the Blessed Sacrament, I ask you to be a bit more patient. My feeling is that once the Sunday Masses go well, this will be addressed. Sorry for this decision.
So there are my final comments before we enter into the weekend. I was asked yesterday on my Facebook live session, what do I think I will be feeling as we restart public Masses. My answer is honestly, I don't know. I will not be surprised if I am overcome with emotion or I am quite calm. I know I will be more agitated if I find we had to turn people away from a full church. What I do know is that I will be filled with joy to worship with you again.
If you have any questions, please consult our parish website for the times and conditions of the re-opening of Mass. God Bless and have a great weekend.
~Fr. Dennis
Excursions into the Mass- Eucharistic Prayer III- Part 2
We continue where we left off yesterday with the moment of epiclesis. If you recall, the two main themes in Eucharistic Prayer III (EPIII) are sacrifice and the Holy Spirit. As we move forward, looking at the specific text, keep an eye out for how those themes are portrayed. After the brief introductory prayer calling upon all of creation to praise God and being reminded that God came for the sake of all, the priest joins his hands. He then prays, "Therefore, O Lord, we humbly implore you: by the same Spirit graciously make holy these gifts we have brought to you for consecration, that they may become for us the Body and + Blood of your Son our Lord Jesus Christ, at whose command we celebrate these mysteries." What "same Spirit" are we talking about? The same Spirit mentioned just a few verses before who by His "power and working give life to all things and make them holy."
Now comes the Institution Narrative, which again, doesn't change except for how it is introduced. The priest prays, "For on the night he was betrayed he himself took bread, and giving you thanks, he said the blessing, broke the bread and gave it to is disciples, saying:…" What always catches me in this part is the phrase "he himself." It strikes me as saying, Jesus really did this, it was him, not someone else, but the Son of God himself.
Then the words of Jesus Himself spoken through the priest who is now in persona Christi, in the person of Christ. "Take this, all of you, and eat of it, for this is my Body, which will be given up for you." I've used this font intentionally because this is how it is printed in the Roman Missal. Given this is the pinnacle of the Mass, these words carry such importance, enlarges and bolds the text in the Roman Missal. I point it out to show how literally every aspect of this moment speaks to the grand solemnity of the moment. The priest genuflects and this gesture reflects the change to the Body of Christ that has occurred.
The priest continues, "In a similar way, when supper was ended, he took the chalice, and, giving you thanks, he said the blessing, and gave the chalice to his disciples saying: Take this, all of you, and drink from it, for this is the chalice of my Blood, the Blood of the new and eternal covenant, which will be poured out for you and for many for the forgiveness of sins. Do this in memory of me."
After the chalice has been raised for the people to see, the priest genuflects again, then sings or says, "The mystery of faith." Then, the faithful sing the memorial acclamation of which the three options are the same for every Eucharistic Prayer.
The priest continues with the anamnesis and the offering, "Therefore, O Lord, as we celebrate the memorial of the saving Passion of your Son, his wondrous Resurrection and Ascension into heaven, and as we look forward to his second coming, we offer you in thanksgiving this holy and living sacrifice." When we speak of memorial and naming what has happened, we're recalling our salvation history. That's why every Eucharistic Prayer has an anamnesis because it's important we remember how we got here, to put it plainly. There's also that element of offering which we will see more in the next paragraph. We are praying that as we remember what has happened and we are offering this "holy and living sacrifice" as an act of thanksgiving (Eucharist). Notice the language, "holy and living sacrifice." It continues, "Look, we pray, upon the oblation of your Church and, recognizing the sacrificial Victim by whose death you willed to reconcile us to yourself, grant that we, who are nourished by the Body and Blood of your Son and filled with his Holy Spirit, may become one body, one spirit in Christ."
Let's talk about the word oblation for a minute. Several times during the year, this word "oblation" is heard in the prayers. I had one person once tell me she struggled with that word because it sounds like a medical procedure. It's true, our minds can go to places like that. What it really means is offering- but something more an offering due. It is not a coincidence that it sounds like "obligation" – because oblation is an offering due to God. What is it that we're offering? WE are giving back from the gifts given to us by God. So it is an offering and an act of thanksgiving all in one. While we do so, we recognize the "sacrificial Victim" – again being reminded that this is a sacrifice.
"May he make of us an eternal offering to you, so that we may obtain an inheritance with your elect, especially with the most Blessed Virgin Mary, Mother of God, with blessed Joseph, her Spouse, with your blessed Apostles and glorious Martyrs (with Saint N.: the Saint of the day or Patron Saint) and with all the Saints, on whose constant intercession in your presence we rely for unfailing help." Now we pray we can become an offering as well. It will be our hearts that are offered up to God along with the gifts of Bread and Wine. Some scholars point out that this Eucharistic Prayer actually has a second epiclesis. When the priest prays that we may become "one body, one spirit in Christ" and "make of us an eternal offering" we are asking the Holy Spirit to transform our hearts for the glory of God. The intercessions also begin in the section of the prayer as we ask Mary, Joseph, the Apostles, Martyrs, and all the Saints to pray for us. As an option, this EP also allows for the insertion of the Patron Saint of the parish or the Saint being celebrated on that day. The reality is our offering comes to and from the hands of God.. These are all great ideals and aspects of our relationship with God that we sincerely hope for, but it will never be by our own power that we achieve them.
"May this Sacrifice of our reconciliation, we pray, O Lord, advance the peace and salvation of all the world. Be pleased to confirm in faith and charity your pilgrim Church on earth, with your servant Francis our Pope and N. our Bishop, the Order of Bishops, all the clergy,
and the entire people you have gained for your own." Once again, reference to the Sacrifice is made. We continue our petitions asking for peace and salvation along with praying for the Pope, our bishops, clergy, and all the faithful.
Listen graciously to the prayers of this family, whom you have summoned before you: in your compassion, O merciful Father, gather to yourself all your children scattered throughout the world. To our departed brothers and sisters and to all who were pleasing to you at their passing from this life, give kind admittance to your kingdom. There we hope to enjoy forever the fullness of your glory through Christ our Lord, through whom you bestow on the world all that is good." With this, we conclude Eucharistic Prayer III with the commemoration of the living and the dead. During a funeral Mass the EP may conclude like this: "Remember your servant N. whom you have called from this world to yourself. Grant that he (she) who was united with your Son in a death like his, may also be one with him in his Resurrection, when from the earth he will raise up in the flesh those who have died, and transform our lowly body after the pattern of his own glorious body. To our departed brothers and sisters, too, and to all who were pleasing to you at their passing from this life, give kind admittance to your kingdom. There we hope to enjoy forever the fullness of your glory, when you will wipe away every tear from our eyes. For seeing you, our God, as you are, we shall be like you for all the ages and praise you without end through Christ our Lord, through whom you bestow on the world all that is good."
After all our petitions and thanksgiving we pray for our great hope which is to be with God forever in heaven. Good way to end a prayer! If there's any questions or clarifications please feel free to contact me. Next up is the rarely used Eucharistic Prayer IV. Stay tuned!