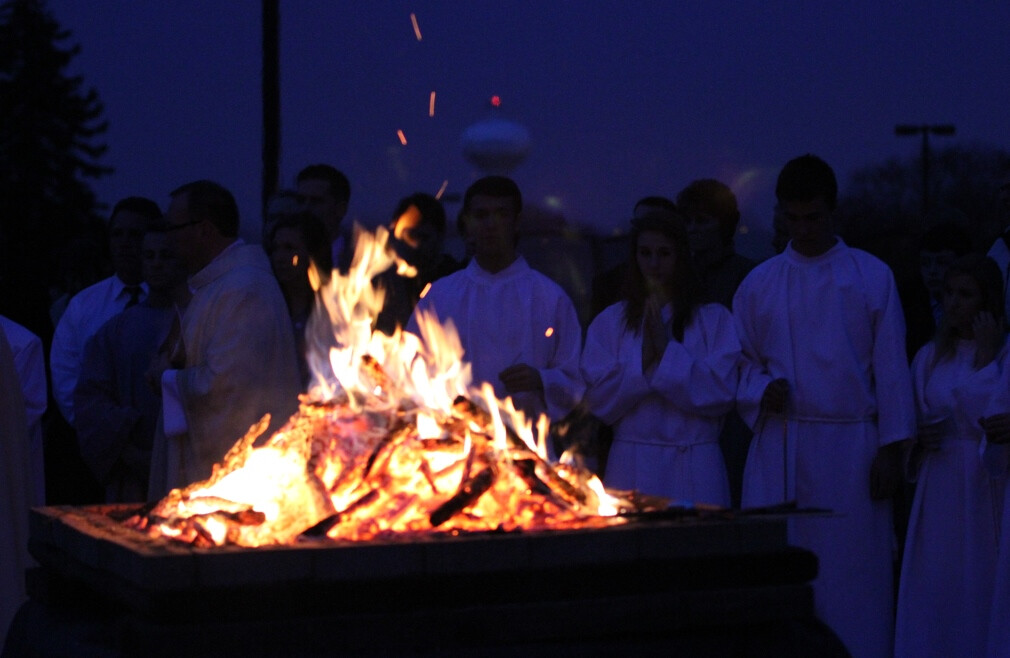 Saturday, April 20, 2019
,
8:00 PM - 11:00 PM
On this holy night, the Church keeps watch, celebrating the resurrection of Christ in the sacraments and awaiting His return in glory. It is the turning point of the Triduum, the Passover of the new covenant, which marks Christ's passage from death to life. The Vigil takes place after nightfall and before daybreak.
The Service of Light
The Vigil begins in our Prayer Gardens where a blazing fire has been prepared. We gather around the fire and experience the flames dispelling the darkness and lighting up the night.
The Paschal candle is prepared by the celebrant who cuts a cross into the candle with a stylus. Then he makes the Greek letter Alpha above the cross, the letter Omega below it, and the four numerals of the current year between the arms of the cross. Then the priest lights the candle from the new fire and says: May the light of Christ, rising in glory, dispel the darkness of our hearts and minds.
Then a procession is formed. Each person receives a lit candle as they enter church.
Liturgy of the Word
One of the unique aspects of the Easter Vigil is the recounting of the outstanding deeds of the history of salvation. These deeds are related in seven readings from the Old Testament chosen from the law and the prophets and two readings from the New Testament, namely from the apostles and from the gospel.
(taken from usccb.org)