Amen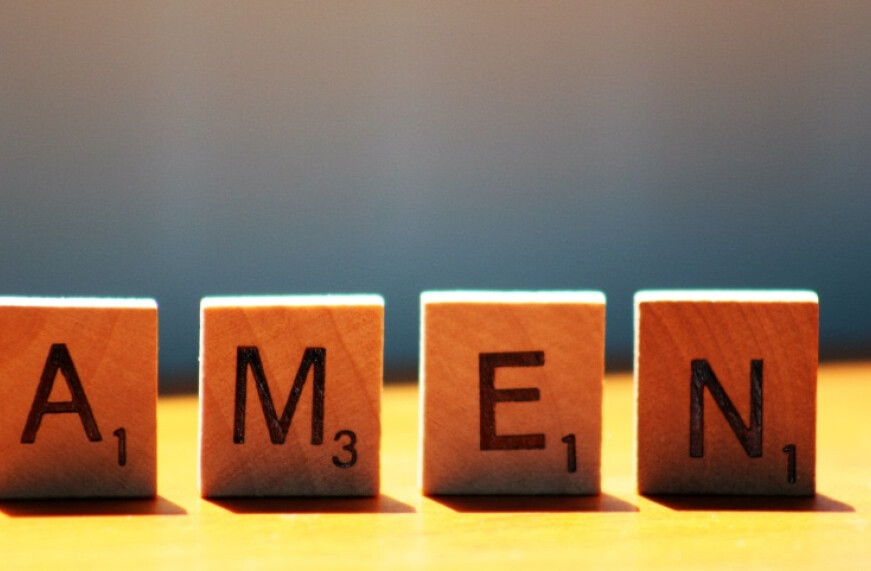 There is a word that we use every time we pray, but holds an especially important place in the Mass. Amen. Now there are two ways to translate the word Amen, one is more a direct translation and the other is more indirect. The direct translation of Amen is "So be it" and the more indirect way is "I believe". I am going to use both, because I want to look at two contexts in which we say this wonderful word.
The first and most common time we say Amen is after everyday prayers such as at meal prayers, Hail Mary, Our Father etc. A beautiful exercise to do is to very slowly and intentionally pray these prayers and then complete them by saying the translation of Amen: so be it. I think we will find the prayer takes on a new depth, because we are saying that we believe everything we just prayed.
But there is also another dynamic here, we often offer these prayers up for a particular intention. For the family member who has cancer, for world peace, for an increase of faith. And we lift up these prayers concluding with Amen, so be it, I believe. We are telling God, "Lord I ask you for this particular favor, I believe you hear me and will answer me, but also so be it to your will, not mine when and how you answer." It is statement of trust, we entrust our intention to God knowing he will answer it in the best possible way.
The second time we say Amen I want to talk about is in the Mass. Amen is used many times during Mass, but I want to focus on one particular moment. When we process up the aisle to the altar, a minister will raise the host before our eyes and say, "The Body of Christ." To which we respond, Amen. So be it. I believe.
We should never forget the power of this word in this moment. At the words, "The Body of Christ" we are saying I believe that the host which looks like bread before my eyes is in reality the Body, Blood, Soul and Divinity of Jesus Christ who suffered and died for me. It is also an act of the will, so be it. It is a profound profession of faith.
Amen is a word of finality. Of saying what was just heard is true and real. It is true that God hears my prayers and it is real he will answer them. It is true that the bread is changed into Jesus and it is not a symbol, it is the real Jesus, the same one who laid in a manger and hung on the cross. Amen, I believe, so be it.
Note: While the translations are beautiful to know, it is more fitting to say Amen rather than "so be it" or "I believe" at the time for Communion because it encompasses everything and more that was stated above.