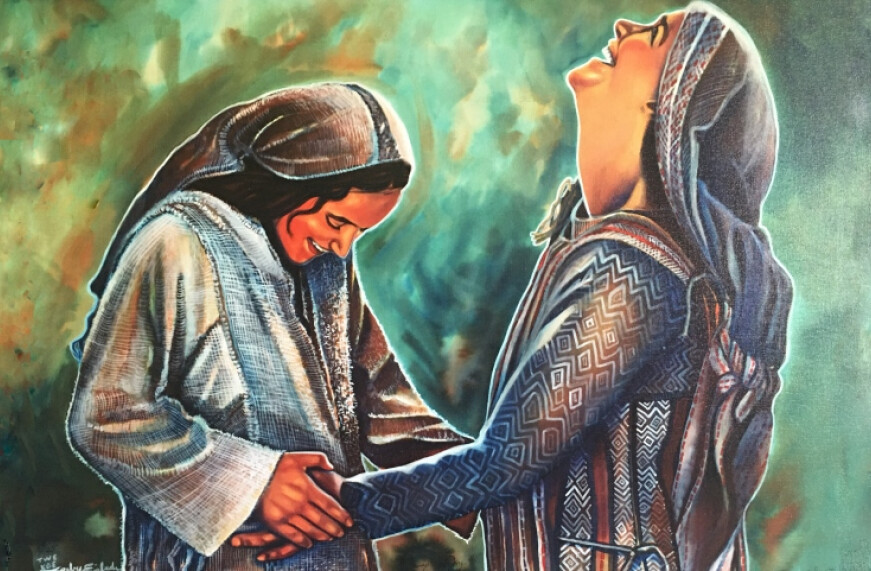 The Scriptural account of the encounter between Mary and her cousin Elizabeth, is celebrated on the Feast of the Visitation. The meeting of the Old and New Testament represented in these blessed women gives us a glimpse of the power of God, who brings new life to them in their anticipated sons to be born. It was difficult to envision the tremendous joy that the two experienced until I came across this more recent image. Their joy is contagious. Jesus is in their midst, and these two women truly know they are blessed.
Have you ever thought about the word blessed and its meaning? I have recently meditated on it. For me, it is the belief that we are chosen by his love and surrounded by his presence every moment. When we realize how we are blessed, each of us in our own ways, we begin to see the hand of God in our lives and how his love sustains us. At times this can be challenging.
While the prayer after communion invites us to recognize the presence of Christ among us in the Eucharist, we must remember that the presence of Christ is also discovered in others. He asks us to serve him by serving others. Mary's service to Elizabeth by her visit remains a model for the Christian who wishes to meet Christ in daily life. This is a wonderful challenge for you and me; namely, to seek Christ in others, to know that Christ is living in them, and to become aware of how Christ is transforming them. Let us make each day extraordinary by Mary's example. You are blessed. I am blessed. Let us live that reality.