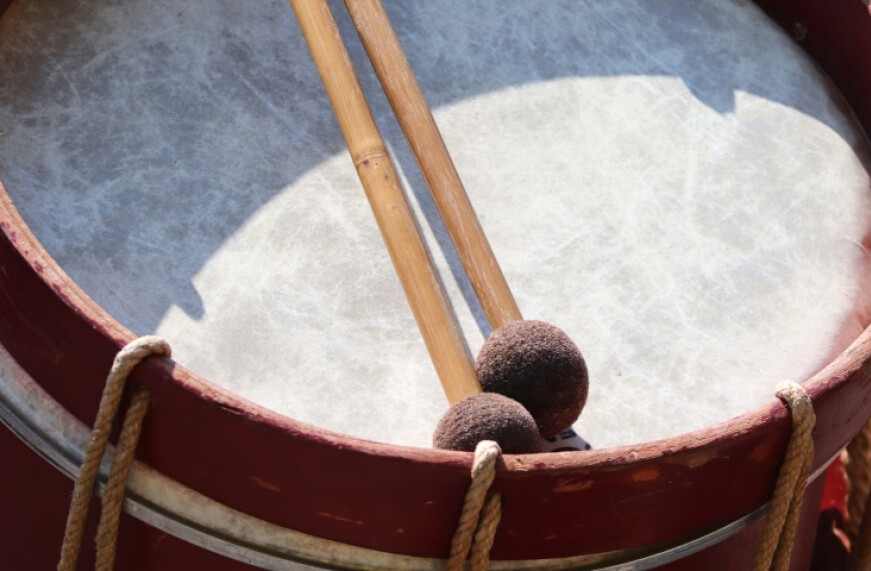 "The Little Drummer Boy" is my all-time favorite Christmas song. Oddly, I can remember singing it in Christmas pageants as a kid hating it. "What a dumb song! There is no drummer boy in the story of the nativity," I would think to myself while rum-pum-pumming to the beat. But a few years back, a Canadian a cappella group known as Pentatonix released their version of the song. Being a fan of the group, I listened and was amazed when I promptly burst into tears listening.
Yes, their arrangement is beautiful. If you haven't listened to it, I highly recommend it. But something about the lyrics to the song hit me in a new way as I listened to them.
You see, the little drummer boy is me. It is each of us. Whether or not there was actually a little drummer boy at the nativity scene is irrelevant really. Because the story is still a narrative that perfectly describes each of us coming before the infant Lord in the manger at Christmas.
Here is this little boy who is told to prepare to go meet a new king. How could he possibly understand what that really means? Other than knowing it is something, someone very important. How can I? How can I truly understand the fullness of the babe in swaddling clothes? Who He is and what He means to the world?
The drummer boy is told to bring his finest gifts for the king. But he is poor. He has nothing to offer anyone, let alone a king. Was he ashamed walking up to the king with nothing? Insecure or afraid he would be found lacking? Even if he was the richest person in the world, what gifts of use or importance could anyone possibly give to a king?
I too am poor. Not so much materially, but spiritually, emotionally, personally. What gifts do I possibly have to give a king? THE King? Should I even bother approaching? Am I worthy? Am I welcome? Will I be found lacking?
Off he goes with the rest of his community to meet this newborn king. And as his time comes to go up to bestow gifts, all he can present is himself. In his poverty. In his nothing-ness. Just himself and the only thing he has--his drum. And so he plays. Maybe not well—he is a little boy. Being poor, I presume the drum is beat up and ragged. But despite the challenges facing him, the ways in which he is lacking, the little boy plays. And the song tells us he plays the best he possibly can for this little baby king, hoping to do him justice with the little he has to offer.
Isn't this the reality for all of us as we approach the newborn King at Christmas? Walking up in humble confidence knowing we have nothing to give, except for our very selves. Knowing we too are poor compared to Him. Wanting to do Him justice with the little that we have to give. Approaching Him nonetheless; striving to do our best, to "play" our best for Him regardless. To give the best of what we have, the best of what we are, little though it might be. Just ourselves. In all our flaws and failures and nothing-ness.
And how does He respond?
"Then he smiled at me, par-rum-pum-pum-pum."
It is enough. It is more than enough. You alone are enough. Jesus delights in the song of the little drummer boy, likely far more than He delighted in the gifts of the Magi. The point of the gifts, according to the song, is to honor the King. And what honors our King more than the gift of our self? Our heart and mind and life and very being, presented to Him as a gift of love. What need has a king for fancy gifts? What He wants is us! To love us. To have a relationship with us. Poor, humble, and playing our best on the beaten up drum of life. He sees us standing before Him. And He smiles with delight.