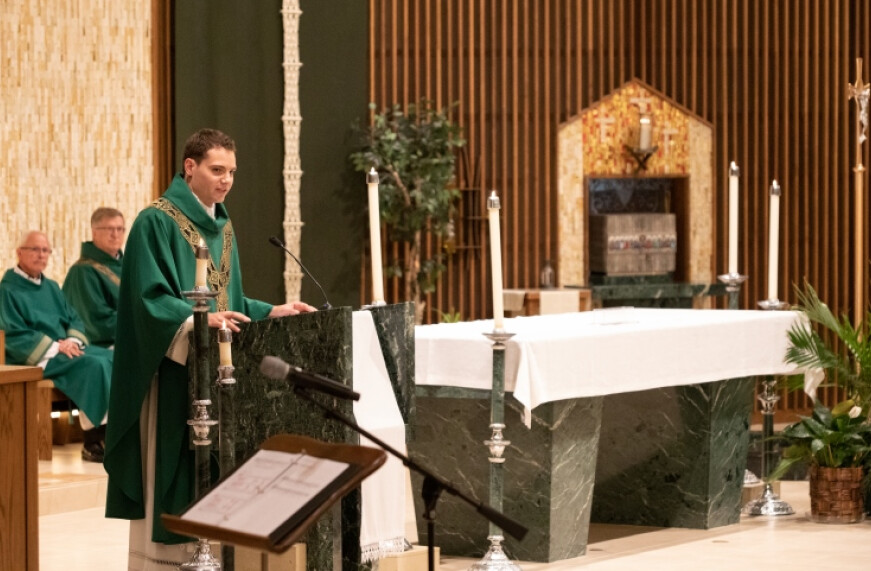 Today I would like to speak about the ambo. With modern technology it can seem a little strange why we would spend a bunch of money on an elaborate book stand such as what we have here at St. Dominic. It might make sense in the old days for sound to make it easier for people to hear and such, but now it doesn't make much sense.
That is of course if we look at it from a practical perspective. From a theological perspective it makes all the sense in the world and it reminds us that the ambo holds a special place in a church. The word "ambo" means/signifies an elevated or raised area and this is key.
Because the Word of God always descends down upon us. Whenever God speaks it is always from above. Moses goes up to Mount Sinai and brings down the Ten Commandments. Jesus gives us the Beatitudes on a large hill on what is known as the Mount of Beatitudes, the apostles go to the Upper Room and receive the Holy Spirit at Pentecost, and here at Mass the lector comes up the sanctuary to the ambo where the readings, the Word of God is proclaimed and descends on us.
The General Instruction of the Roman Missal says, "When the Sacred Scriptures are read in the Church, God himself speaks to his people, and Christ, present in his word, proclaims the Gospel."
I love to think of the readings as gentle rain falling on our souls. Nourishing us, refreshing us, preparing us to receive the Eucharist which becomes the life of Christ within us. So that we may embody what we have just heard and consumed.
That is why the ambo matches the altar, because it is at the ambo where Jesus speaks, it is at the altar where he reveals himself to us. We often hear someone before we see them. The readings prepare us to be able to recognize Jesus in the Eucharist. Without the readings, without hearing his voice, we will never see beyond the veil of bread before our eyes. We will never see that it really is Jesus before us.
I think that is why it can be so difficult to pay attention to the readings at Mass, because God will never shout or force his voice into our hearts. Like we hear from the prophet Elijah God is not in the earthquake but the whisper. We must intentionally strain our ears to hear him. We really have to work hard to pay attention.
And so the ambo is reminder to us that God still speaks to us today. His voice is not trapped in the past, but spoken to us in this very moment. We only need the ears and desire to hear him.