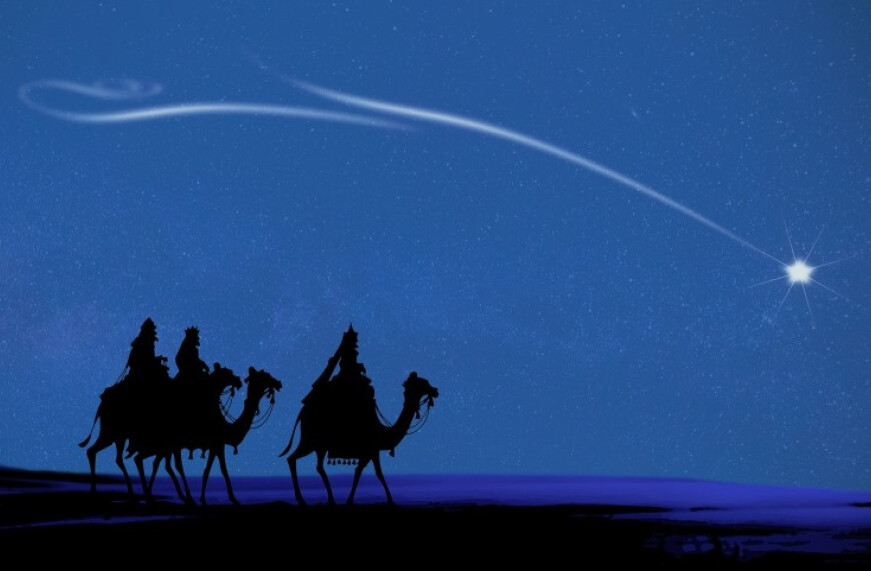 By definition, Epiphany means an appearance or manifestation, particularly of a divine being. God breaks into the everyday life of His people, manifested in the person of Jesus.
The story of the Magi arriving in Jerusalem looking for the newborn king of the Jews is only found in the Gospel of Matthew. The term "magi" may refer to a group of astrologers from Persia or the East. They are neither referred to as kings nor being three in number. It as common belief in ancient times that a new star appeared at the birth of a great figure. We are told that the Magi brought gifts. Gold, appropriate for a king, yet given to the one who gives the kingdom "to the poor in spirit." Frankincense, an expensive perfume for the one who tells us "the meek shall inherit the earth." Myrrh, a traditional herb used in burial preparations, foretelling of Christ's suffering and death.
Two thousand years have passed since that first Epiphany. Is the star that led the Magi still burning brightly in our lives? How does God manifest Himself to us today? We need only look to ourselves. We make God present to others. The God we cannot see shines through the love of those we can see. Sometimes that star is profound and easily recognized, while other times it may be subtle and difficult to see. In making God's love present to others, we become Epiphanies of God...shining stars that lead one another to Christ...we become Christ, each one for the sake of all.