Praying Through Music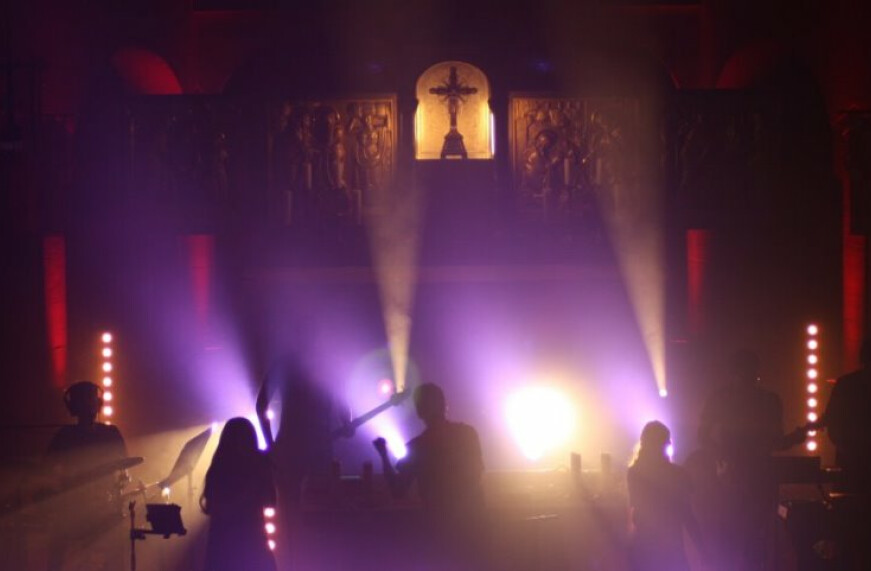 I was sitting in a hotel ballroom, staring up at a myriad of fancy stage lighting and three projector screens, the center displaying a fake cathedral type image, and I thought to myself, "what did I get myself into?" This worry and dread grew when the band started up and people all around me started to sing along and raise their hands in the air. I thought, "shoot, what sort of non-denominational Praise and Worship (P&W) music fest did I get myself into?" Then I turned to the person who had invited me on this retreat/training conference, the Life Teen Catholic Youth Ministry Convention, looking puzzled, and realizing how perturbed I was, he mouthed, "Just have an open mind."
I had a bias against P&W music, because when I was a teen, a friend invited me to her youth group, where there was a projector screen, neon up-lights, and a not very talented band playing songs about a God I wasn't yet sure I believed in. When I became Catholic, I loved the reverence for God, the focus on the cross, the prayerfulness with which we approach the Eucharist and communion. I thought P&W music couldn't possibly fit into that. I was wrong. Through the 4-day conference, God opened my heart to this type of prayer in a variety of ways I never thought possible. Even if you are a skeptic, here are some reasons this type of prayer is so powerful for me, and some ways to make it powerful in your own life.
One of the reasons P&W music has been powerful for me is that when we take the words to heart they can transform us. With lyrics like, "You are a good, good father, it's who you are, and I am loved by you," the song "Good, Good Father" pushed me to ponder the perfect fatherhood of God. Through singing out loud and wrestling with the words, it pushed me to internalize and believe a truth which my head knew, but my heart struggled to believe. Songs, just like prayer books and written devotions, are vehicles for our relationship with God when we internally experience the words. Lyrics are there to help guide you, challenge you, help you remember God's goodness, seek out His mercy, or sing His praises.
Another way P&W music transformed my prayer was by adding an emotional energy. It may be hard to think of prayer as having energy, but I think St. Therese of Lisieux illuminates this need when she says, "Prayer is a surge of the heart; it is a simple look toward heaven, it is a cry of recognition and of love, embracing both trial and joy." I don't know about you, but music has always made my heart soar and my voice cry out. P&W music is a vehicle for our hearts to surge towards God. Finding songs that hit you, in the genre you like (Praise music comes in all genres!) can be a way to link the surge of emotions that we all experience through music to God.
If this is still foreign to you, because you like the traditional music sung at Mass, or you don't like to sing along at all, I still suggest giving it a try with an open mind. Listen to P&W music on your own through the radio station KLove, or find a worship playlist on YouTube or Spotify to avoid the pressure of being with others. Focus on it like you would prayer, start with the sign of the cross, and be focused on a crucifix as this will help you direct the words and your praise to God. Maybe attend a Teen Mass, Surrender, XLT, or Arise Saturday night to experience P&W music in person in a Catholic setting.
Say you give all that a try and it still doesn't "hit you." That's ok. Different people like different prayer. However, I would still challenge you to continue to encounter P&W with an open mind. Try a different prayer posture, hold your hands out in praise, or leave them open at your sides to receive and embrace the discomfort. Some of the most worthwhile experiences in our lives are uncomfortable, and usually it's because the Holy Spirit is transforming us for His Glory.