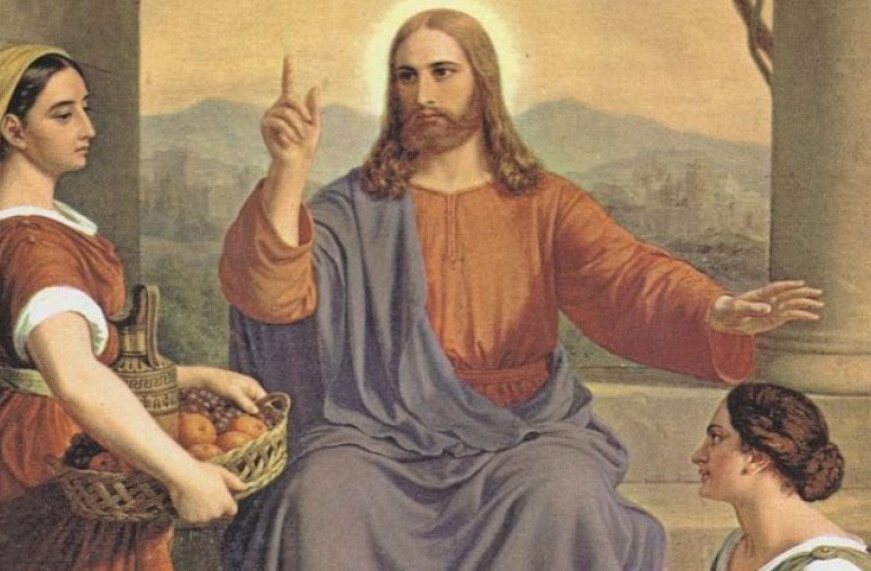 As I was driving to do some volunteer work last Friday afternoon, I had Relevant Radio on. I occasionally listen to this station to unclutter from the noise of typical news/talk radio. It serves as a mini retreat from time to time. My favorite show to catch is with Drew Mariani. While I was listening, a question was posed for consideration: What would it be like at your house if Jesus came to dinner?
This is always a fun one for me to ponder. I have had varying responses based on my state of life. One thing I know for sure, it would be very interesting. Let's just pretend that the arrival was unannounced/unplanned, He just showed up. This would cause me to have great anxiety. At my core, I am very much like the character of Martha in the gospels. She is the one who, while Jesus is visiting their home, is scurrying about making sure everything is perfect. A surprise visit doesn't allow for planning, and I would be fretting that not everything is perfect. Knowing myself, I would be instantly aware of every little thing out of place and try to subtly fix it. I would depend on my husband to entertain Jesus until I could get situated; offer a beverage, a bite to eat, what will we do for dinner? Then, it would hit me – I have Jesus in my house!
I would like to think that I'd shift into Mary mode, dutifully listening and hanging on His every word, once I had the chance to dote on our Lord a bit. In being able to focus on the fact that Jesus was in my house, I would not have the faintest idea what we'd talk about since He already knows everything. I would like to think we would simply be our normal selves. I would like to think that would be why He came to visit us – to meet us where we are. This is what we try to do at St. Dominic Catholic School as we welcome every Knight, every day. We all come with so much in our hearts and on our minds that we hope the time spent in these halls are a time to allow children to just be. No pressure. No worry. Just be. We also strive to provide an environment that intentionally provides opportunity to connect with Jesus. No pressure. No worry. Just be.
Thank you for having faith in us. Thank you for having hope and trust in the work we do. Thank you for being partners with us. Thank you for being here.