"You too, dear young people, can be joyful witnesses of his love, courageous witnesses of his Gospel, carrying to this world a ray of his light." ~ Pope Francis
EDGE is a dynamic Catholic community for middle school students (6th-8th grade) that provides an environment to encounter Jesus and find their true identity in Him. We offer both a Large Group Ministry (Tuesday Night Edge) and a small group ministry (Emmaus). All middle school students are welcome to participate in our ministries. There is no fee to attend!

Our Ministries
Tuesday Night EDGE
EDGE provides the opportunity for our students in grades 6, 7, and 8 to dive deeper into what we believe as Catholics and how to live out our faith in the world. Students participating in EDGE will encounter Jesus and come to understand how to have their identity rooted in Him. All students, regardless of where they go to school, are invited to join the conversation and experiences that EDGE has to offer on Tuesdays evenings from 6:15-7:30 PM.
Emmaus Small Groups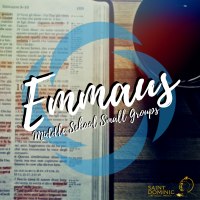 Emmaus is a Lectionary-based discipleship small group that is designed to help teenagers encounter Jesus through the study of Scripture and the Holy Mass in a small group setting. Emmaus meets on Mondays from 4:45-6:00 PM.