About Us
EDGE is a dynamic Catholic community for middle school students (6th-8th grade) that provides an environment to encounter Jesus and find their true identity in Him. We offer both a Large Group Ministry (Sunday Night Edge) and a small group ministry (Emmaus). All middle school students are welcome to participate in our ministries. There is no fee to attend!

Our Ministries
Sunday Night EDGE
EDGE is the start of your adventure as a disciple. Teens gather together to hang out, relax, connect with peers and caring adults to discuss life, listen to a message, and worship with praise music.
EDGE is held on Sunday evenings in the Marcy Center and Virtually. Doors open at 4:00 p.m. with the program starting at 4:15 p.m.
All middle school students are welcome to join us! It is FREE to attend.
Emmaus Small Groups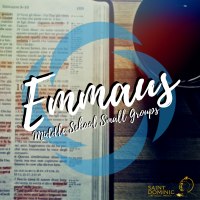 Emmaus is Lectionary-based discipleship small groups that are designed to help teenagers gain a deeper understanding and appreciation for Sacred Scripture and the Holy Mass. Emmaus meets weekly on Tuesday nights in the Student Lounge to pray, discuss scripture, and walk with one another in our faith journey. Small groups are great for anyone desiring community and wishing to grow in their love for Jesus Christ and His Church. Emmaus is open to all middle school teens.