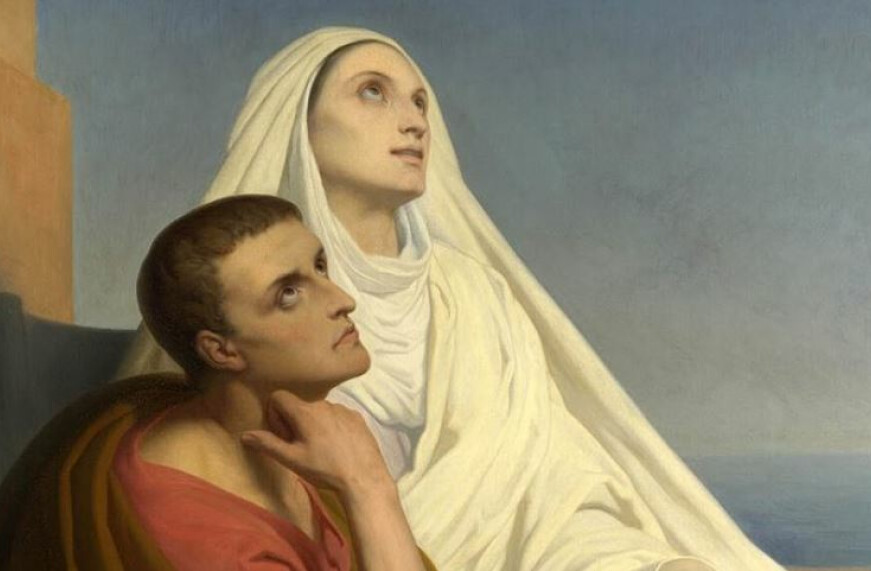 On August 27, we celebrate the feast of St. Monica. I "met" St. Monica a few years ago. While I knew of her, I took the time to learn more about her in order to establish a friendship. I now call upon her daily as I try to live with and understand the changing nature of my role as mother, now that my children are adults. This is a struggle for me; the balancing act between continuing to teach but doing it in a way that will not be seen as too pushy. The life of St. Monica sheds some light on how to navigate this tenuous terrain. After all, I only want the best for my children, all children, and that is a life rooted in Jesus Christ.
St. Monica was married to a pagan man who respected her beliefs but was unwilling to have their three children baptized. Their children were Augustine, Navigus, and Perpetua. Monica would pray fervently for her husband's conversion, and one year prior to his death, he was converted. In that time, Navigus and Perpetua entered into religious life, but Augustine was nothing but lazy and uncouth. Worried, Monica sent him away to Carthage for an education. Unfortunately, Augustine established an appreciation for a philosophy of life that was not Christian. Upon returning home and telling his mother, she kicked him out of the house. Feeling remorse, she reconciled with her son and pursued a different approach. She sought counsel from many people and eventually forged a relationship with St. Ambrose. Augustine was eventually brought to conversion after seventeen years of persistence. Augustine went on to become St. Augustine. (www.catholic.org).
What was the secret? Faith. Hope. Perseverance in prayer. St. Monica found every avenue to teach in subtle and not so subtle ways. She called upon the Saints. She asked for help. She sought support. She relied upon the Mass and making sacrifices. Her story demonstrates how even when you don't think your children/next generation isn't paying attention or listening, they most certainly are. If you read Confessions by St. Augustine, you will definitely see that St. Monica's actions had more of an impact than her words. She never gave up on her son, because God never gives up on us.
St. Monica,
I need your prayers. You know exactly how I'm feeling because you once felt it yourself. I'm hurting, hopeless, and in despair. I desperately want my child to return to Christ in his Church but I can't do it alone. I need God's help. Please join me in begging the Lord's powerful grace to flow into my child's life. Ask the Lord Jesus to soften his heart, prepare a path for his conversion, and activate the Holy Spirit in his life. Amen.