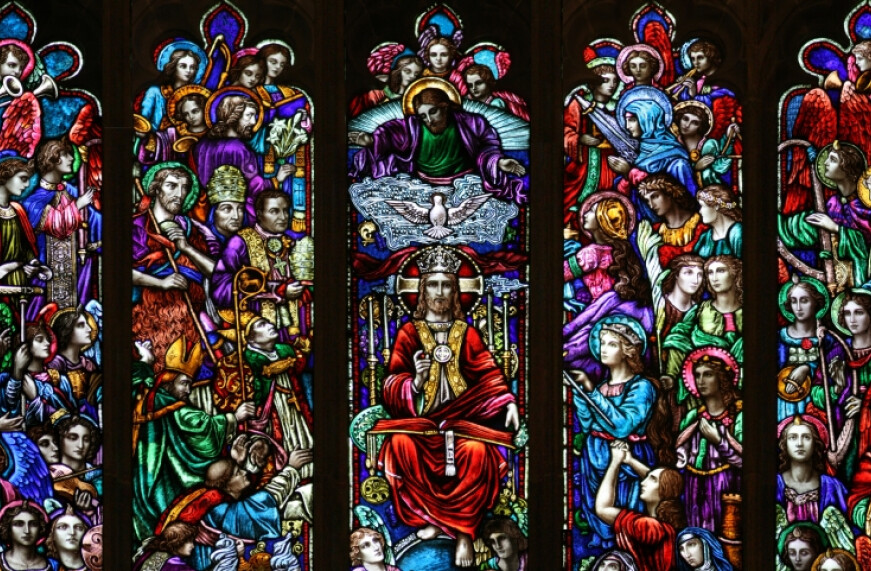 Every now and then I am struck with how totally awesome our Church is. When I reflect upon the Communion of Saints, I can't help but think this concept is genius! First introduced in the Book of Maccabees in the Old Testament, our faith tradition has since built upon a rich tradition that can bring such peace and hope for all the living and those who are dying. The Saints, those canonized by the Church, and the saints, the faithful departed, create a full circle of love through intercessory prayer. The Saints will have your back, you only need to ask. How lovely that our Church honors this family
and roots it in our creed. Knowing that at any time you can shout out to a loved one or an icon of faith and bring them close to work with you and beside you to gain the graces to stand strong through any situation is AMAZING! We are truly never alone between
our angels and our Saints/saints not to mention through our Blessed Mother and our Holy Trinity. With all that love and support, how can we not have love, joy, hope, and peace. One need only pray and believe.
But wait, there's more. While they are there to help us, we are also here to help them. An often forgotten teaching of the Catholic faith is the belief in purgatory. The Catechism of the Catholic Church defines purgatory as a "purification, so as to achieve the holiness necessary to enter the joy of heaven," which is experienced by those "who die in God's grace and friendship, but still imperfectly purified" (CCC 1030). How can we help our departed loved ones? Prayer! When we offer up Mass or our prayers for them, we assist them in gaining the glory of heaven. They in turn are praying for us. The full circle of love!