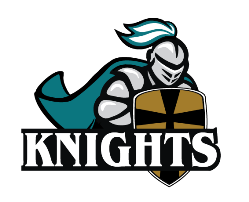 The St. Dominic Athletic Association will promote and support the following sports within the means, capabilities, and desires of the students, faculty, staff, parents, and parish. Participation in an extracurricular sport is a privilege granted to students.
If you have any questions or would like more information regarding any of our athletic programming, you may contact .
Athletic program information is sent home to eligible day school and formation program students through school or formation weekly emails. Information is also provided through the bulletin, website, and the athletics registration site. Please visit the athletic program registration site for more information.
Volleyball
Volleyball is open to boys and girls entering grades 5-8. Registration is held in May for the following fall season. Tryouts are held in August. Season runs from September to early November.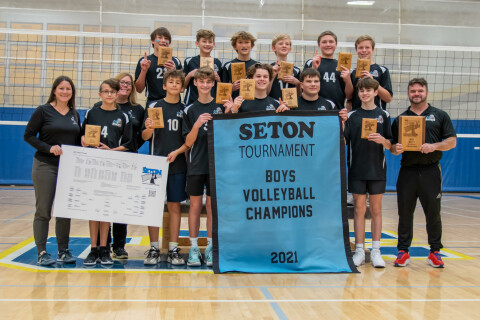 Team Placement:
All students should attend player evaluation dates in August. The 5th and 6th grades are split evenly based on results. The 7th and 8th grades are divided into A team and B team. In the event a 7th/8th grader decides they do not want to be considered for the A team, they would not be required to attend the player evaluation days.
Practices:
5th and 6th Grades - 3 hours per week, days and times TBD
7th and 8th Grades - 4 hours per week, days and times TBD
Games:
Boys' teams generally play Friday evenings, typically 5:30 PM or later.
Girls' teams generally play Saturdays, typically between 8:00 AM and 4:00 PM.
Games are held at various local gyms.
Games hosted at St. Dominic Parish Athletic Facility:
St. Dominic will host games on Fridays and Saturdays as well, so your team will be required to volunteer. Please consider volunteering for concessions, admissions, and light clean up of the lobby, gym floor, and locker room. Four adults needed for each shift.
Volunteering:
Volunteer opportunities include Head Coach, Assistant Coach, Team Manager, Tournament helper, Uniform helper, and Picture Day assistant. Note all families will be required to provide volunteer hours during the season to run our game and tournament operations. A volunteer sign-up will be sent before the season.
Team pictures are scheduled for late September or early October.
Game schedules are posted on the Metro Volleyball Conference page.
Basketball
Basketball is open to all students in grades 5-8 who are enrolled in our day school or formation program. Registration begins in September. The seasons runs from October through March.
St. Dominic Catholic Parish is proud of our Boys Basketball teams who won the Padre Serra championship in 2012 and 2014 and our Girls Basketball team won the championship in 2017. More importantly, we are proud of all our student athletes who compete with humble excellence whether winning or losing.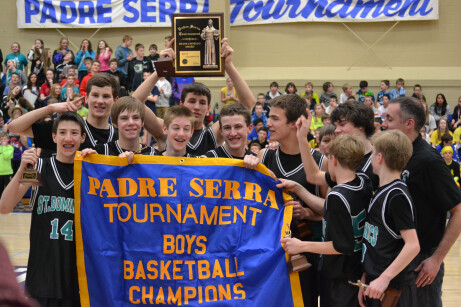 Track and Field
The Athletic Association is pleased to be able to offer students the opportunity to participate as a member of the St. Dominic Track Team. Being a member of the team is a unique experience.
Track athletes, both boys and girls, compete on the same team. This setting offers a broader social atmosphere than other sports. Student athletes practice together and compete in the same events. The meet events, however, are run based on gender and grade.
There are not cuts, tryouts or "A/B" splits.
Training, competition, and recognition are geared toward individual strengths. Athletes can participate in a variety of events including running (sprints, middle distance, long distance, and relays), jumping (high and long), and throwing (softball, shot put, and discus). Individual times and distances are charted throughout the season to measure progress. Athletes are awarded medals and ribbons for 1st through 8th place at the meets. School records are honored on our track plaque located in the Parish Athletic Facility lobby.
Outdoor practices and meets enable the athletes to enjoy and cope with Wisconsin's spring weather.
The track season runs from March through May. Parents are required to volunteer to assist with the St. Dominic track meet, volunteer at other meets, coach or assistant coach.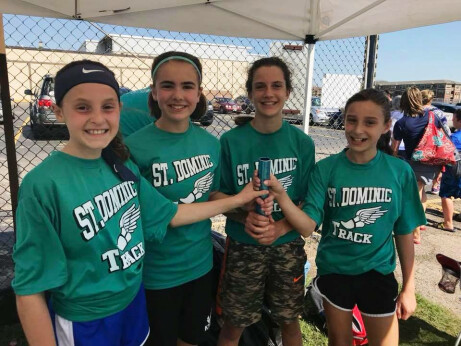 Tennis League
St. Dominic Catholic School participates in the Milwaukee Middle School Tennis League. Students in grades 5-8 who are enrolled in our parish school or our formation program have the opportunity to join the co-ed team and represent St. Dominic in tennis practices, and if they have the ability, to play in a match, and participate in team matches against other middle schools. Depending on the students participating, they may be split between "A" an "B" teams.
Practices begin in April. The season runs April through May.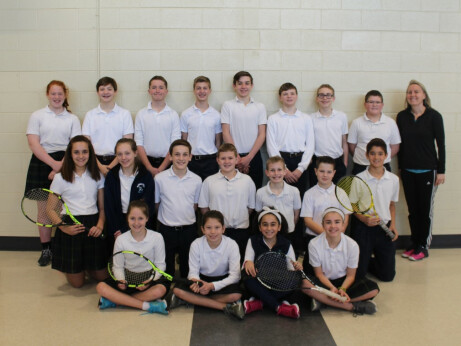 T-Ball & Coach Pitch
Play Ball! For children entering K4-3rd grade, this league is open to the public as well as St. Dominic children. This is a non-competitive league perfect for children who want to have fun with friends, learn the basics, and play the game. All coaching is provided by parent volunteers, so please consider volunteering to coach when you sign up!
Children entering K4: T-Ball
Children entering K5: T-Ball with some Coach Pitch introduced
Children entering 1st, 2nd, 3rd grade: Coach Pitch
Registration runs February through April or until the league fills. Season runs from June through August. Teams play 8 games on the St. Dominic baseball fields. The season ends with an ice cream social.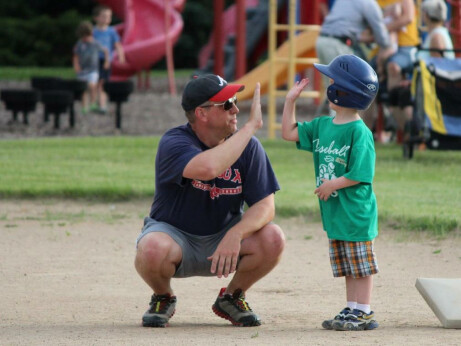 Knightball Prime
The St. Dominic Athletic Association is very excited to announce we have partnered with M14 to assist our players with the highest level of youth basketball training. The St. Dominic Knightball Basketball Developmental Program and League is open to children currently enrolled in grades K5-3. This program is designed to have the first 3 weeks professionally trained by M14 trainers who are professional trainers for all ages and skill sets. A 12-1 trainer to player ratio is targeted so that each player receives very focused developmental attention. The first 3 Saturday mornings in March 2024 will deliver 1-hour M14 training sessions. After these sessions are complete, the fun really begins and it's time to show off the new skills with Saturday morning games. The league will run for 3 Saturday mornings. There will be 2 games per morning per player: play a game, sit a game, and then play a game. Each player will rotate in and out of the game every 4-5 minutes. Teams will consist of 10 players. These games will be officiated by certified refs who will be instructing the players throughout the games to ensure every player has a positive game experience. Coaches and parents are encouraged to remain positive with the kids and put the emphasis on fun! Teams will be created by the league and younger players will be matched up with wristbands to have like-kind talent guarding each other.
Our goal is to make this introduction to basketball a high energy program with music and fun skills targeted to all levels of play. This is a co-ed program.
Registration runs from November through January and the program runs March through April.

Coaching
The St. Dominic Athletic Association utilizes a formal set of guidelines in the selection of coaches for athletic activities throughout the parish.