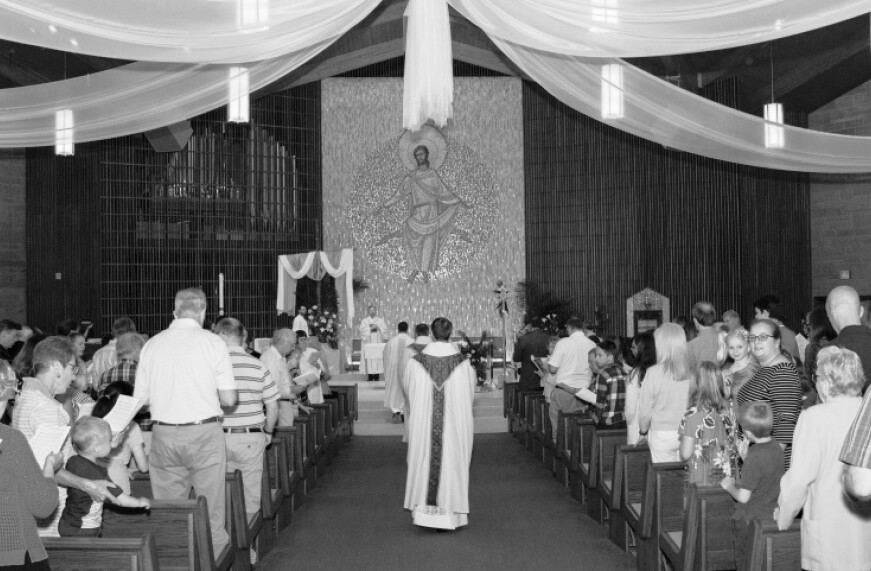 Why do we have a procession from the back of the Church to begin Mass? As with the past topics we have covered, the physical actions we perform in our Faith convey a message which would take much longer to say with words. Case in point, the procession takes about a minute, while its explanation takes 3-4 minutes.
A procession always has a destination; you process to something. In our case, we process to the altar which represents Christ, so at its foundation it is a procession toward God.
Now while it is technically only the ministers who process down the aisle, they represent the larger assembly. One of the reasons we all face the same direction in the pews is to reflect this. We are all moving in the same direction, moving toward God. This unified movement toward God is very important, for it is a reflection on how all of us outside of Mass should be living our life, toward God. We are growing in holiness together, not as individuals.
The more unified in this act we are, the smoother and easier the road, the procession, will be. If you have ever been to a Packer Game or any stadium environment, you probably have experienced the same frustration I have when encountering someone who is walking against the flow of traffic. It causes a ripple of chaos.
The same holds true when someone stops suddenly or is just standing there. It causes great disruption. So it is on our spiritual procession toward God, the more we grow in the holiness, the less we move away from God or stop because of sin, the quicker and easier it is for not only ourselves to reach him, but others as well.
It is one of the strange yet beautiful aspects of our Faith, when we grow in holiness, the people it benefits the most are those around us. We make it easier for them to move to God. So the procession before Mass represents the procession of all of our lives. Our procession toward holiness, our procession toward God.